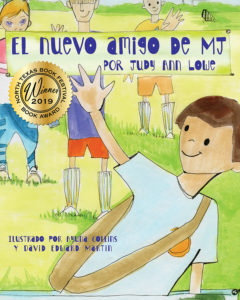 Winner of the 2019 North Texas Book Festival – Spanish Books/Children
El nuevo amigo de MJ es una historia de aceptación, amistad y cómo encontrar el valor de hacer lo correcto.
Cuando MJ ve a un nuevo niño en la práctica de fútbol, nota que hay algo diferente en este niño, pero por instinto le gusta y confía en él. Conforme su amistad se desarrolla, MJ descubre que hay más en este niño de lo que él creía. Depende de MJ el tomar acción y ser un líder, defender a su amigo y alentar a los otros niños a ver más allá de las diferencias aparentes y encontrar el corazón de la amistad en la diversidad.
Apropiado para todas las edades, El nuevo amigo de MJ fomenta los rasgos de carácter positivo y ayuda a niños a entender actos de amistad, valor, amor, lealtad, fuerza, perseverancia, liderazgo, y autosuficiencia.
La inspiración para esta historia viene del esposo de la autora, Sam Lowe, quien tenía interés en OVNIs y gente de otros planetas
El deseo de Judy es que los niños de todas las edades abran su corazón a los que son un poco diferente. Nuestro bello planeta Tierra solo evolucionará a través de amor y luz.
Detalles del producto
Pasta dura: 30 páginas de color con 9 ilustraciones de acuarela
Publicado por: J.S. Pathways
Lenguage: español
Fecha de Publicación: 27 de Septiembre del 2018
Por: Judy Ann Lowe
Ilustraciones por: Ayuna Collins y David Edward Martin
ISBN-13: 978-0998156125
(paperback) MSRP: $12.99
Disponible en nuestra tienda online y Amazon.com y BarnesandNoble.com.